End of Season Awards - Season 1999/2000
The voting is now complete, and it is now time to reveal this years winners of the Prestigious (!!!) Woking FC Fanzine Website End Of Season Awards.
Category 1 - Most Entertaining Player Of the Season : Nassim Akrour
Although many will be disappointed with the showing from Shaun Lacy (just 1% of the vote), this category was a close run thing between Naz and Scotty for a while.
I think it's probably fair to say that Nassim Akrour has not lived up to the expectation placed upon him from the moment he was "poached" from Sutton. This expectationa was exactly relieved when he had an excellent pre-season. However from the very first game away at Southport it became obvious that Naz against a Conference defence that "meant it" was going to be a very different prospect. That said Naz has still shown occasional flashes of brilliance and when his game is going well he can beat any player in 1 square yard of turf, and score some phenomenal goals (Sutton at home for example). In that respect at least this award is well deserved, because at times this season Naz was the only player on the pitch with the ability to at least give the crowd some hope that something exciting was about to happen.
Runner up Scott Steele has proven that despite all the things stacked against him this year, such as being asked to fulfil a much deeper role for much of this season and missing large chunks of the season through injury, he is still one of the most exciting players in the Conference. He is also 100% Woking and will not ever give anything up without a fight. Scott, you're a top man !!!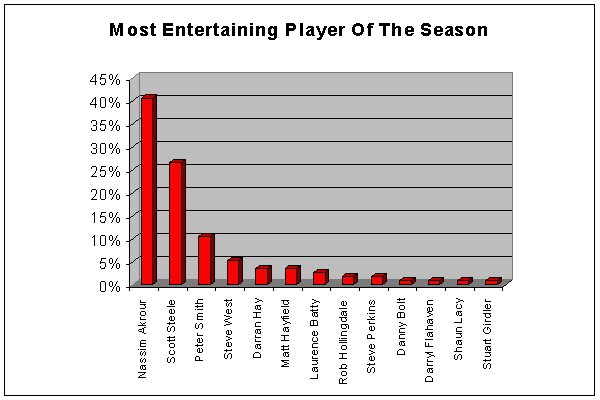 Category 2 - Most Improved Player Of the Season : Darryl Flahaven
A very hard fought category here, with never more than 4 or 5 votes separating the top 2 all the way through the voting. More will be said about Steve West later (Really ??? What category could that possibly be in ???) so for now we'll concentrate on Darryl Flahaven.
Like the winner in the last category it would appear as if Darryl has played his last game for The Cards, and most fans will consider this to be a shame. Whatever his faults (or just general lack of height) you cannot question that Darryl has proven himself to be a good goalkeeper this year. The transformation from the nervous young player who stood transfixed by crosses, to such an extent that the old "Dracula joke" seemed inappropriate only in that it was too kind, to the player who saved us at least two points away to Telford, one point away to Kettering etc etc has been incredible to witness. The fact that he was being cited as the new "number 1" in front of Kingfield legend Laurence Batty was even more amazing ["especially when Laurence hadn't had a bad game all season" it says on the back of the fiver Laurence gave us last Saturday. ;-) ] Wherever Darryl ends up next season I'm sure we'll all wish him the best of luck, and if someone could find a way to make him taller by about 6 inches then I reckon you could have a 1st division goalkeeper on your hands.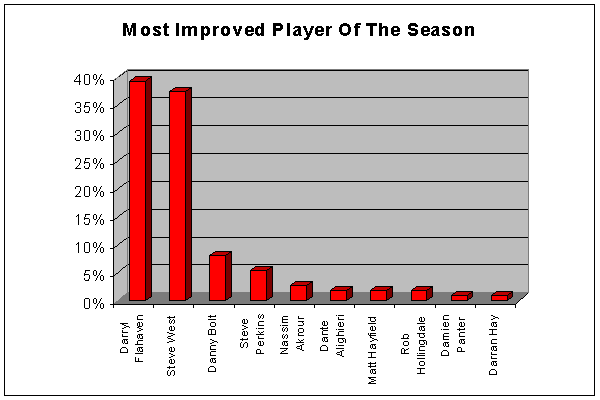 Category 3 - WFC Fanzine Website Player Of the Season 1999-2000 : Steve West
Not only has Steve West won this award, he has won it by about 10 country miles with just short of 90% of the vote. To say that at the start of the season I would have given you odds, of somewhere in excess of 100-1 on this result, is probably underplaying the size of turnaround in feelings towards Steve West this year. Don't get me wrong, Steve was never actually disliked, it was just... well Simon Bell's player profile of Steve West (written pre-season) sums it up perfectly. We all knew he tried, but he was supposed to be a 30 goal a season centre-forward for whom we'd paid a club record transfer fee. It won't shock a single Woking fan to say he never quite looked the part up front, despite the fact that he scored a reasonable number of goals.
Although I doubt anyone realised it at the time, last season's FA Trophy game against Folkstone was to be a major turning point in the career of Steve West. Suspensions, injuries and the like meant that Brian McDermott took the slightly curious (at the time) step of playing Steve West in central defence. Westy did well enough, but it was only against Folkstone... Apparently Brian Mc saw something he liked because he stuck with Westy until the more recognised defenders were available again. Then, following Ed Saunders' injury this season Westy was thrown straight back into central defence, This time in spite of the fact that there were other recognised centre halves available in the squad. The rest, as they say, is history.
Steve West's role in defence is not about subtlety, finesse or style but has everything to do with guts, determination, strength (both physical and of character) and above all a willingness to sacrifice ones own game for the sake of the team. In a season as poor as this it was always likely that a player showing exactly these traits would win player of the year, but that wasn't enough for Steve West. He went the full nine yards by also scoring the late and disputed winner at Broadhall Way just before Christmas. Try hard all season and score a goal against Stevenage.... It should be written into every player's contract !!!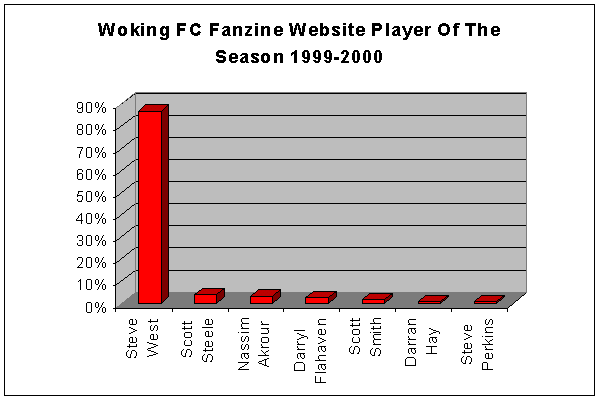 Category 4 - Best Prospect For Next Season : Matt Hayfield
Finally the award that looks forwards and not backwards. A large number of players received votes in this category, though sadly at least 4 of them won't be around to fulfil the faith shown in them. One other point of note is that Shaun Lacy (or more specifically his belly) gains his second nomination in this category. Any more of this and we'll be getting the Football League scouts down hoping to have a look at this up and coming youngster.
Matt Hayfield has won this award by almost as many country miles as Steve West did the player of the year, with over 70% of the vote. It should have been apparent to us how good Matt Hayfield could be by the mass wailing and gnashing of teeth coming from the South-West when he was released by Yeovil. It is a pleasure to report that he has lived up every inch to his billing, adding both drive and purpose to a midfield that has been lacking one or both of those attributes for most of the season. He's also shown the ability to get amongst the goals, something that can only add to his value next year.
Welcome to the club Matt. Carry on as you are and the awards Westy has won could easily be yours !!!